TAGS Membership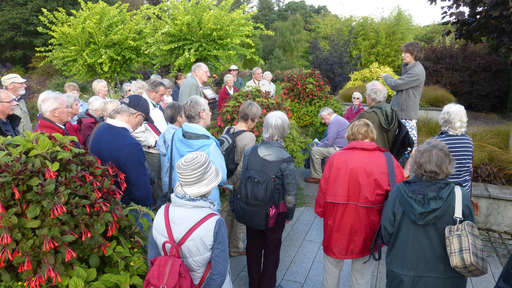 Gardeners with gardens of all sizes are always made welcome as members of TAGS. Even if you don't have a garden but do have an interest in gardens and or gardening, you can join TAGS. There are numerous benefits for you. These include:
access to the Trading Hut at Butts Park Allotments off Elm Grove Road for basic gardening needs at a low prices on production of your membership card.

coach trips to special gardens each year at a reduced price for members, including an annual trip to Rosemoor.

an RHS members' card that you may borrow for a private visit to any RHS gardens at a reduced rate.

our annual flower and vegetable show each August is a special event for every member and, indeed, any Topsham resident. Entries are welcome from any gardener, cake baker, photographer (the photography competition is always a popular event) and there are a wide range of classes to enter and even classes for children.

visiting gardens in Topsham, chatting to the owners.

our annual Gardeners' Question Time gives us all the opportunity to have some of our queries and problems solved and a cuppa and a natter afterwards, of course.

Saturday and Sunday mornings when you are welcome to bring your morning coffee to the Trading Hut, to meet some of the other members and have a browse through some gardening magazines.
Do join us, make new friends, exchange ideas and compare notes with other gardeners and enjoy the summer trips.
Membership Form
Please print and complete the membership application form below and return to the address on the form or click here to download a MS Word version of the form that you can complete using MS Word or LibreOffice and email to the address on the form.
Duncan Smith, Former Chair/Convener of TAGS Passes Away
We are sad to report that Duncan Smith, who held four important posts in our Society, died on 30 December. Initially, in the 1990s, he was a very 'hands-on' representative of the Glasshouse Lane site. He then volunteered to take over as Trading Hut Secretary, greatly enlarging the variety of stock and mixing a range of low-cost vegetable-specific fertilisers, some of which are still on offer. Duncan then became Show Secretary for several years, followed by a stint as Chair (or, as he preferred, Convenor) of the TAGS committee.
Always an enthusiastic plot-holder, active to the very end, he often wondered at the differences in horticultural practices between Glasgow, his former home, and Devon. Above all, he had a strong commitment to public service, which was undiminished by bouts of serious illness of which most people were unaware. He was typically thorough and efficient, with a sharp sense of humour and an enquiring mind. Topsham Allotments and Gardens Society and allotment holders have been great beneficiaries of his sense of duty.